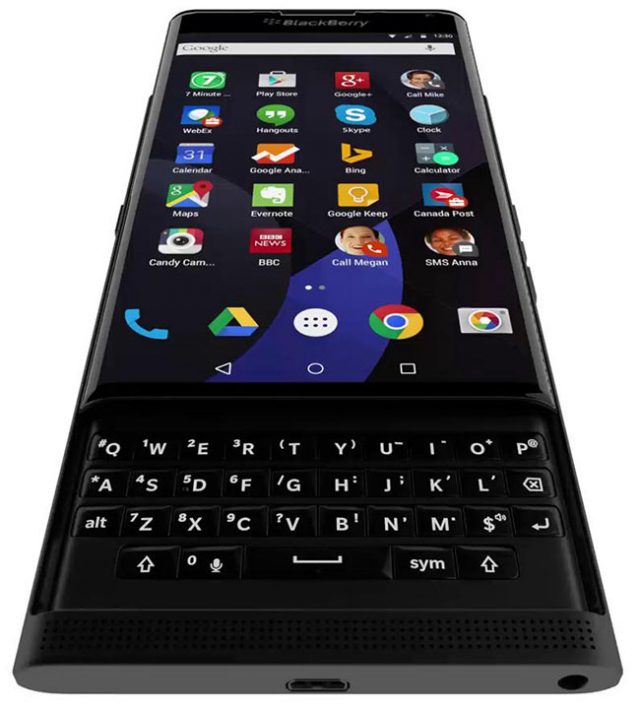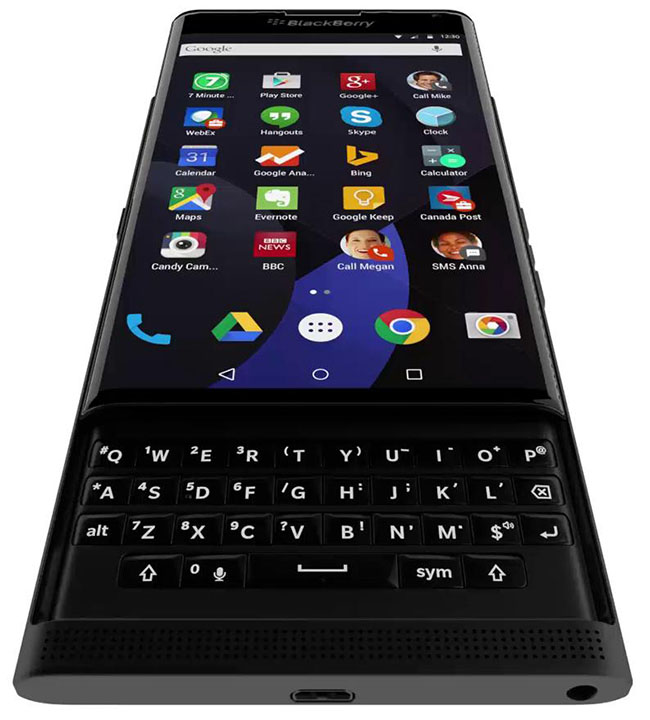 Pasa cada vez más seguido, esta vez se filtró en el sitio de una tienda todas las especificaciones de la BlackBerry Priv, no es que fuese un misterio ni nada especial, pero lo interesante es que se conoce el precio del equipo liberado.
$749 es algo elevado pero ¿Es en dólares canadienses o americanos? Si es en canadienses serían USD 570, pero recordemos que es precio liberado, en el Reino Unido el precio será de £580 así que creo que los 749 se referían a dólares americanos.
Se confirma en cambio el procesador Qualcomm Snapdragon 808 a 1.8GHz, 3GB de RAM, 32GB de almacenamiento, slot microSD hasta 2TB, pantalla de 5.4″ a 2560×1440 AMOLED curva hacia los costados, la batería de 3410mAh. El tamaño del equipo es de 147 (184 abierto) x 77.2 x 9.4 mm y pesa 192 gramos.
La cámara es de 18MP con OIS, lente f/2.2, video a 4K y 30fps, cámara frontal de 2MP, NFC, FD-LTE en redes 1, 2, 3, 4, 5, 7, 12, 17, 20, 29, 30, obviamente HSPA+ y GSM, sin soporte (todavía) para redes CDMA.
La fecha de llegada de este slider (amo los sliders) es el 16 de Noviembre y consolidará el paso de BlackBerry al uso de Android.
Via Crackberry
Full Specs
Baseline Software Support: Android 5.1.1 Lollipop
Size (LxWxD): 147 (184 opened) x 77.2 x 9.4mm
Weight (w/battery): 192g
Model Number: STV100-1
Processor:
• Qualcomm 8992 with 64 bit Dual-core 1.8 GHz Cortex-A57 and Quad-core 1.44 GHz CortexA53 (Snapdragon 808 Hexa-Core, 64 bit)
• Adreno 418, 600MHz GPU
Memory:
• 3GB Low Power RAM
• 32GB Flash
• Hot-swappable MicroSD slot (up to 2TB)
Expandable Memory:
• MicroSD slot located on top of device, accessible via pin-eject tray
Display:
• Curved 5.43"
• 2560 x 1440 resolution
• 540 DPI
• WQHD Plastic AMOLED
• High Brightness Mode for Outdoor Readability
• 24-bit color depth
• 16:9 aspect ratio
• Corning Gorilla Glass 4
Rear Facing Camera:
• 18MP Auto-Focus
• Optical Image Stabilization (OIS)
• Phase Detect Auto Focus (PDAF), Fast focus lock
• HDR
• 6-element f2.2 lens
• Back Side Illumination (BSI2) Stacked Sensor
• Dual Colour, Dual 2 mm2 LED Flash – Enhanced photo color balance
• 4k Video Recording: 30 fps, 1080p HD video recording at 60 fps, 6DOF video stabilization combined with OIS for incredibly smooth video
• 4x digital zoom
• Continuous & touch to focus, face detection, image stabilization
• Panorama, Burst, Live Filters
• Multi-Frame Low Light Enhancement
Front Facing Camera:
• 2MP Fixed-Focus, f2.8
• Large 1.75um pixel size
• Image & video stabilization
• 720p HD video recording
• 2x digital zoom
• Wide Selfie Mode (also known as Selfie Panorama)
• Multi-Frame Low Light Enhancement
Dedicated Keys: Volume Up/Down, Mute, Lock(Power On/Off)
Notification: Tone, vibrate, on-screen or LED indicator; notification options are user configurable
Touch Capabilities:
• 10-point multi-touch
• Supports Passive Stylus
• Glove Mode
• Capacitive Touch Keyboard: Allows navigation gestures, fine cursor control, swipe to select word predictions, swipe back for word deletion
Navigation: Capacitive Touch, capacitive 4-row keyboard (slider)
User Interface: Gesture control plus touch sensitive physical keyboard with gesture support
Keyboard:
• Physical Sliding Keyboard, with support for:
• Contextual auto-correction
• Contextual next word prediction
• Personalized learning engine
Keyboard Security: Password protection, Screen lock, and Sleep mode
Voice Input/output:
• Integrated speaker and 3 microphones
• BlackBerry Natural Sound enabled: Receiver cavity microphone monitors what the user hears and adjusts in real time for best performance. The system monitors speaker motion in real time to ensure maximum loudness without distortion
• Virtual Back Volume Speaker – high surface area material in the speaker cavity provides higher loudness in a more compact space
• Hands-free headset capable
• Bluetooth headset capable
• Integrated Hands-Free Speakerphone
Headset : 3.5 mm stereo
Ports and Connectivity:
• USB 2.0 Connector with SlimPort enabled
• USB 2.0 fully supported with standard microUSB 2.0 cable (included in box)
• Cabled-Video Out, 4k @30 fps, supported with standard SlimPort adaptor (not included in box). SlimPort adaptor cables exist to support the following video protocols: HDMI, VGA, DisplayPort 1.1, DisplayPort 1.2, DVI
• NFC
Power Adapter
• +5V DC / 1.3A AC power adapter, OMTP Compliant
• QC2.0 Enabled – Compatible with QC2 Chargers
• Dual mode Wireless Charging capable for Powermat (PMA) and Qi
Battery:
• 3410 (typ) 3360 (min) mAh 4.4V 680 Wh/L integrated non-removable battery
• Fast charge enabled
Battery Life:
• Mixed Usage: Up to 22.5 hours ?
? 22.5 hours battery life is based on mixed usage scenario. Many factors affect battery life including but not limited to network, transmission environment, battery age, usage, location software and feature configuration.
Network
• FD-LTE 1, 2, 3, 4, 5, 7, 12, 17, 20, 29,30
• HSPA+ 1, 2, 4, 5/6, 8
• Quad band GSM/GPRS/EDGE
Wi-Fi:
• 802.11 b/g/n for 2.4GHz
• 802.11 a/n for 5GHz
• 802.11 ac for 5GHz
• 4G Mobile Hotspot
• Wi-Fi Direct 2×2 MIMO
Bluetooth Support: Bluetooth 4.1 Low Energy (LE)
GPS
Assisted, Autonomous and Simultaneous GPS
Pre-loaded Google Maps
E911 supported
Advanced Sensors : Accelerometer, Magnetometer, Gyroscope, Time of Flight (ToF) Proximity, Ambient Light, Altimeter, Activity Monitor
SIM Interface
Nano SIM card (4FF)
Supports 1.8V and 3.0V cards
Recommended Temperature Parameters
Handheld – Operating: 0 to 35°C / 32 to 95°F
Handheld – Storage: -20 to 35°C / -4 to 95°F
Travel charger – Operating: 0 to 35°C / 32 to 95°F
Accessibility: HAC Rating: M3 T4