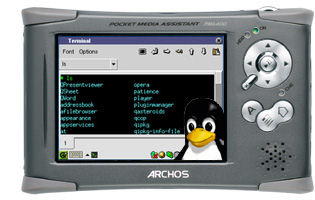 ¿están interesados en crear sus propias aplicaciones para su reproductor multimedia? será posible en el Archos PMA400 con el nuevo SDK que lanzó la firma francesa.
El PMA400 es un reproductor multimedia, agenda y practicamente, PC portátil, que utiliza Linux como sistema operativo, por ende, es fácil programar aplicaciones para el mismo o portar otras ya existentes en ese sistema operativo (más de 5000 hay disponibles con código fuente libre…)
El sitio oficial para descargar el SDK aquí
Ahora bien… ¿quien tiene semejante dispositivo? son caros, arriba de los 800 dólares…
Las especificaciones del "aparatito" no son nada despreciables (del sitio oficial):
Capacity:
30 GB.
Interfaces:
High-speed
USB 2.0, compatible USB 1.1, PC & Mac USB Host port compatible Mass
Storage Device Built-in WiFi connection (802.11b technology) IRDA 115
kb/s port.
Operating system:
Linux Qtopia™ with embedded ARCHOS multimedia applications.
Video playback:
MPEG-4
SP with MP3 or ADPCM stereo sound, near DVD quality up to 704×480 @ 30
f/s (MTSC), 720×576 @ 25 f/s (PAL), AVI file format*.
Video recording:
MPEG-4
SP with MP3 stereo sound, near SVCD quality (optimised resolution for
standard TV through composite video line-in) with up to 512×384 @ 30
f/s, in AVI format*.
Music playback:
Stereo MP3 decoding @ 30-320 kb/s CBR & VBR, WMA (including Microsoft® PD DRM protected files), WAV.
Music recording:
From any analog source into MP3 or WAV (PCM) format. Voice recording with built-in microphone.
Photo viewer:
JPEG, PNG, GIF or BMP.
PIM functionalities:
Qtopia™ software to manage your address book, agenda, calendar, calculator.
Games:
Qtopia™ embedded games and Mophun™ game engine to play games downloadable from Archos web-site.
Display:
3.5″ TFT transflective touch screen (QVGA) 320×240 pixels, 262,000 colors and TV output.
AV Connections:
Earphone/Line
Out jack. Built-in microphone and speaker. TV cradle to connect to TV
with analog audio/video In & Out to RCA jacks, S-video In, and IR
receiver for remote and IR emitter for tuner control, SCART In &
Out for European version. Travel audio-video kit in option to record
audio and video analog source on the move.
Battery life:
Up to 4 hours* for video playback or 9.5 hours* for music. Removable battery available as an option.
Scalability:
Download firmware updates from www.archos.com
Power source:
Internal: rechargeable Li-Ion Batteries. External: AC charger/adapter.
Dimensions:
Approx. 125 x 78 x 20 mm (4.9″ x 3.1″ x 0.8″).
Weight:
280 g (9.9 oz).
System requirements:
PC:
Pentium® III 800 MHz or higher, Windows 98 SE, ME, 2000 or XP. 64 MB
RAM (128 MB recommended) with USB port and CD-ROM drive. Mac: 9.2 or X
(10.2.4) USB Manager version 1.2 or higher with USB port and CD-ROM
drive. Linux: with support for USB Mass Storage Class devices.